Welcome!
Welcome to the New Braunfels Inclusion, Diversity, Equity, and Awareness (IDEA) Forum. The purpose of the IDEA Forum is to examine racial, economic, and social inequities and citizen access issues within our community, to promote citizen dialogue and cooperation, and to develop solutions for a lasting understanding of all groups within the community.
Take the Pledge
On September 7, 2022 member of the community joined together to kick off the IDEA Forum's Pledge Drive. Over 250 members of the community and local organizations pledged to commit to a mindset and practices that exemplify acceptance, compassion, and dignity for all.
For more information on how to take the pledge or support this initiative, please contact us at ideaforumnb@gmail.com.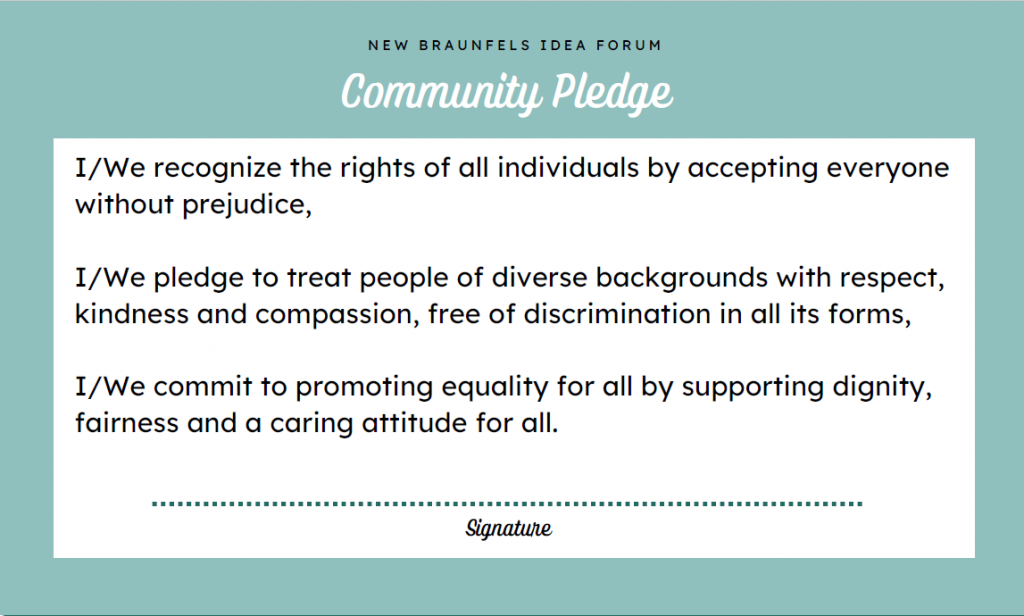 Upcoming Meetings
Join us at out next General Meeting- March 29
Join us for our General Meeting on March 29th at 6 p.m. at 511 E. North Street.
In honor of Intellectual and Developmental Disabilities Awareness Month we will learn about intellectual and developmental disabilities as well as the current activities being held at the Rock Haus and future plans for the site that was the former Booker T. Washington school. There are some amazing things to come!
Community Events
Westside Community Center Pop-Up Events
Join the Westside Community Center on the first Thursday of each month from 3:30-5:00 pm for family fun. For more information on these events or to register visit www.newbraunfels.gov/LibraryEvents.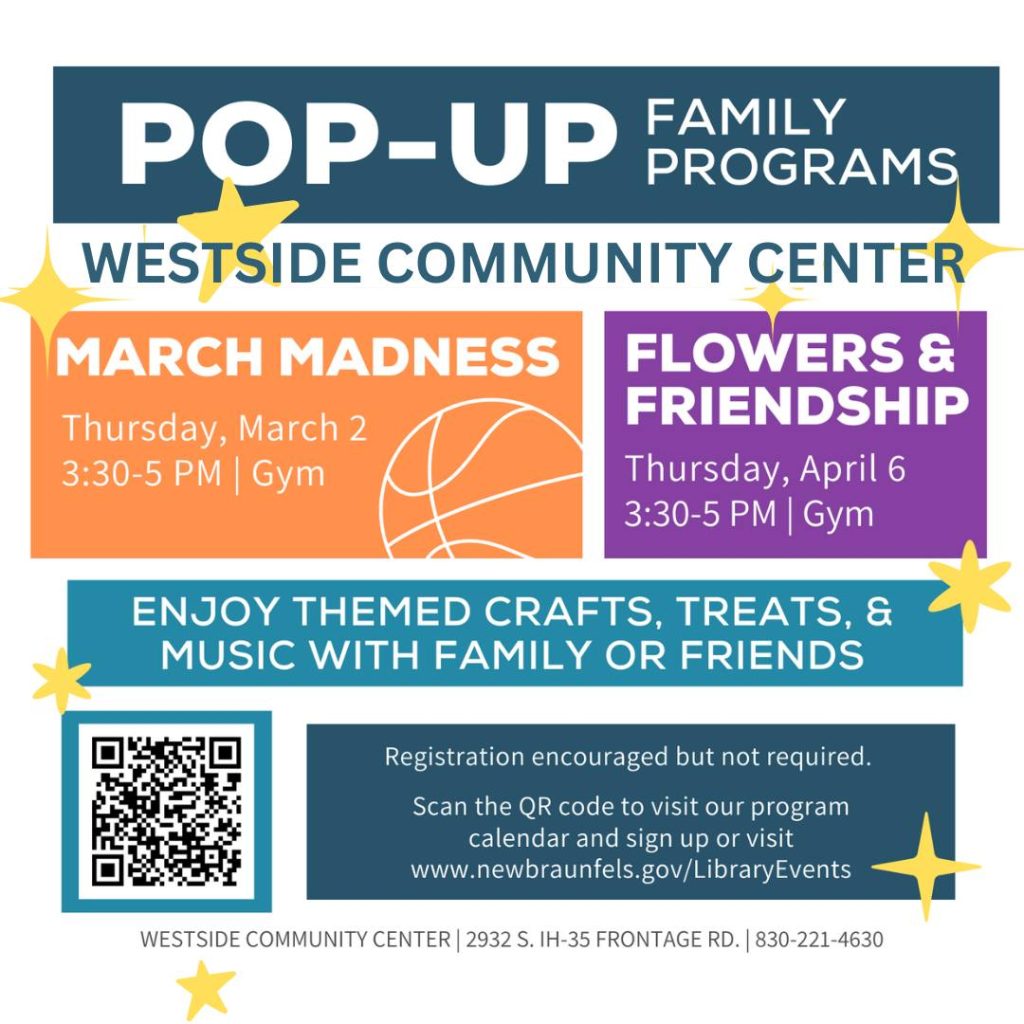 Any Baby Can Walk For Autism- April 1, 2023
Join Any Baby Can on April 01, 2023 for the 3nd Annual New Braunfels Walk for Autism. This event provides an opportunity for the Comal County community to recognize and empower individuals on the autism spectrum and with other developmental disabilities. For more information on Any Baby Can visit https://www.anybabycansa.org.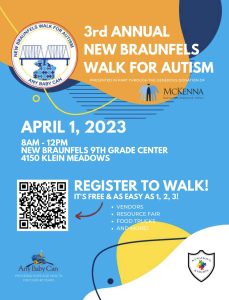 Community Information
City Board and Commission Applications are Now Open
Applications are now being accepted for the City boards and commissions with Spring appointments. Applications are due by March 31st, 2023, and new appointments begin on June 1st.  For more information on open positions and application instructions, please visit the city's website at https://www.newbraunfels.gov/396/Boards-Commissions.
Applications now available for Habitat for Humanity's Casas De Esperanza Townhomes
Comal County Habitat for Humanity is developing a first two story townhome community. The neighborhood will feature 4 bedroom, 2 bathroom, two story attached homes. The Comal County Habitat for Humanity Homebuyer application process is now open for the Casas De Esperanza community. The deadline to turn in applications and all supporting documents is March 30th, 2023 by 5:00pm. For more information please visit https://comalhabitat.org/casas-de-esperanza/.
NB MLK Non-Traditional Scholarship Applications
The New Braunfels MLK Association os now accepting applications for a non-traditional student scholarship. Eligible applicants should be 25 years old or older, residents of the City of New Braunfels or Comal County, and are intending to go to school to acquire the skills to become for more financially independent. To apply go online https://form.jotform.com/230336169751154 complete and submit application. Or, email info@nbmlk.com and request a form. Submit by email info@nbmlk.com or mail to P.O. Box 311533, New Braunfels TX 78131-1533. All questions concerning the scholarship must be submitted by email to info@nbmlk.com. The deadline for application submission is midnight April 30, 2023.