Welcome!
Welcome to the New Braunfels Inclusion, Diversity, Equity, and Awareness (IDEA) Forum. The purpose of the IDEA Forum is to examine racial, economic, and social inequities and citizen access issues within our community, to promote citizen dialogue and cooperation, and to develop solutions for a lasting understanding of all groups within the community.
Take the Pledge
On September 7, 2022 member of the community joined together to kick off the IDEA Forum's Pledge Drive. Over 250 members of the community and local organizations pledged to commit to a mindset and practices that exemplify acceptance, compassion, and dignity for all.
For more information on how to take the pledge or support this initiative, please contact us at ideaforumnb@gmail.com.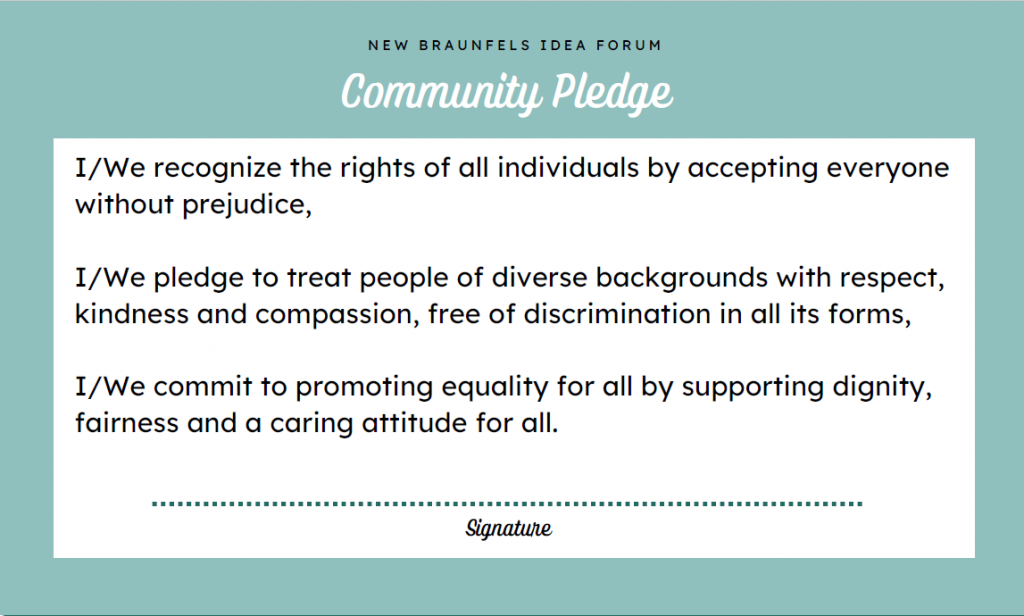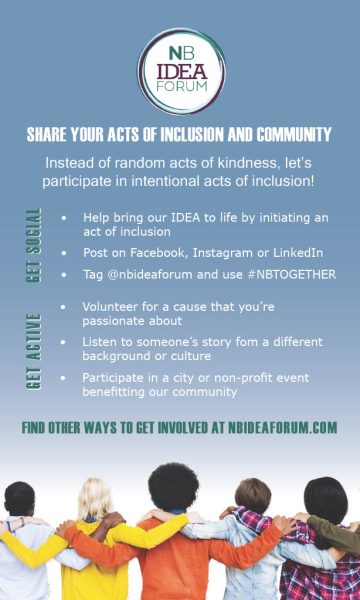 Random Acts of Inclusion and Community
Since the holiday season is  a natural time for being thankful and appreciating one another, what better way to celebrate our community than by participating in Random Acts of Inclusion and Community?  We invite all of you to spread this contagious, positive energy by taking actions to be inclusive to others in our community this holiday season.Then share your Random Acts of Inclusion and Community on social media and using our hashtags and tagging the IDEA Forum. Ensuring that everyone feels included in some way can make a huge positive change, in your neighborhood, school and community. We would love to see an overwhelming response to this initiative (through the new year) and hope that others will follow suit.
Upcoming Meetings
Join us at out next General Meeting- November 17, 2022
Please join us for the November meeting on November 17, 2022. This meeting will be held at the New Braunfels Food Bank (1620 S. Seguin Avenue, New Braunfels, TX 78130). A social gathering with light refreshments will be from 6 – 6:30p, followed by the meeting from 6:30 – 7:30 p.m. The topic of the meeting will be Hunger Education, and will cover multiple food resources here in New Braunfels.
Community Events
Families and Politics Workshop
Braver Angels Central Texas will be hosting a Families and Politics Workshop on Saturday, December 3, 2022, from 9:00 am – 12:30 am. This event will be held at The McKenna Center- 801 W San Antonio Street. To register for the event or to learn more about Braver Angels, please visit the event page.
Christmas Dance Party
The Rock Haus Foundation will be hosting a Christmas Dance Party for adults in the community with special needs on December 14, 2022. For more information or to RSVP, email info@rockhausfoundation.org.