Welcome!
Welcome to the New Braunfels Inclusion, Diversity, Equity, and Awareness (IDEA) Forum. The purpose of the IDEA Forum is to examine racial, economic, and social inequities and citizen access issues within our community, to promote citizen dialogue and cooperation, and to develop solutions for a lasting understanding of all groups within the community.
Take the Pledge
On September 7, 2022 member of the community joined together to kick off the IDEA Forum's Pledge Drive. Over 250 members of the community and local organizations pledged to commit to a mindset and practices that exemplify acceptance, compassion, and dignity for all.
For more information on how to take the pledge or support this initiative, please contact us at ideaforumnb@gmail.com.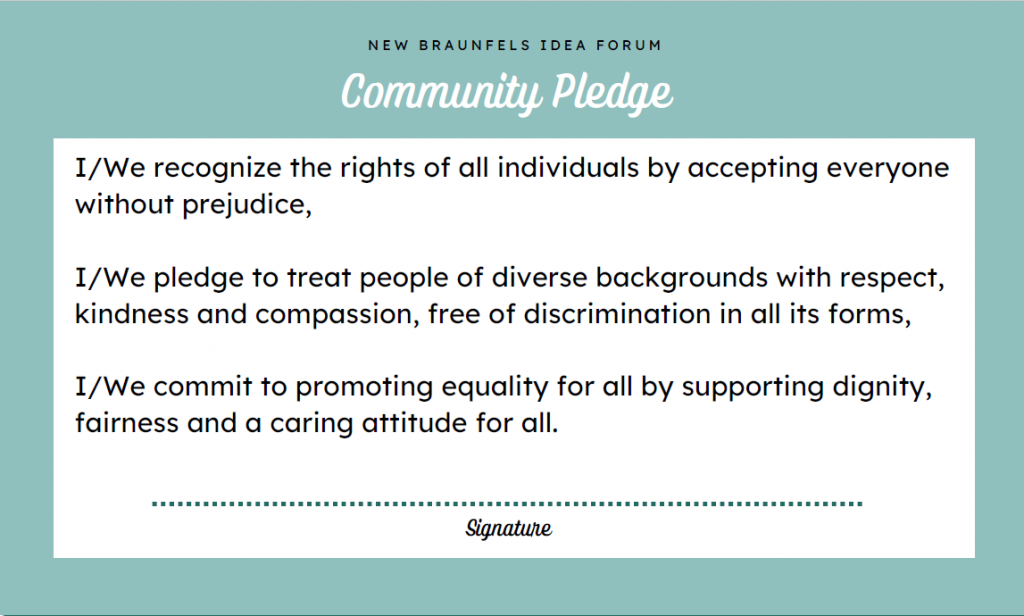 Upcoming Meetings
IDEA Forum General Meeting- October 24, 2023
We are happy to announce our next general membership meeting. Please join us on Tuesday, October 24, 2023 to hear about community mental health response efforts. This meeting will be hosted at the New Braunfels Police Department located at
3030 W. San Antonio Street
.
General Membership Meeting
Community Mental Health Response
Tuesday, October 24 at 6:30pm
New Braunfels Police Department
3030 W. San Antonio Street
Community Events
Check back for more events.