Welcome!
Welcome to the New Braunfels Inclusion, Diversity, Equity, and Awareness (IDEA) Forum. The purpose of the IDEA Forum is to examine racial, economic, and social inequities and citizen access issues within our community, to promote citizen dialogue and cooperation, and to develop solutions for a lasting understanding of all groups within the community.
Upcoming Meetings​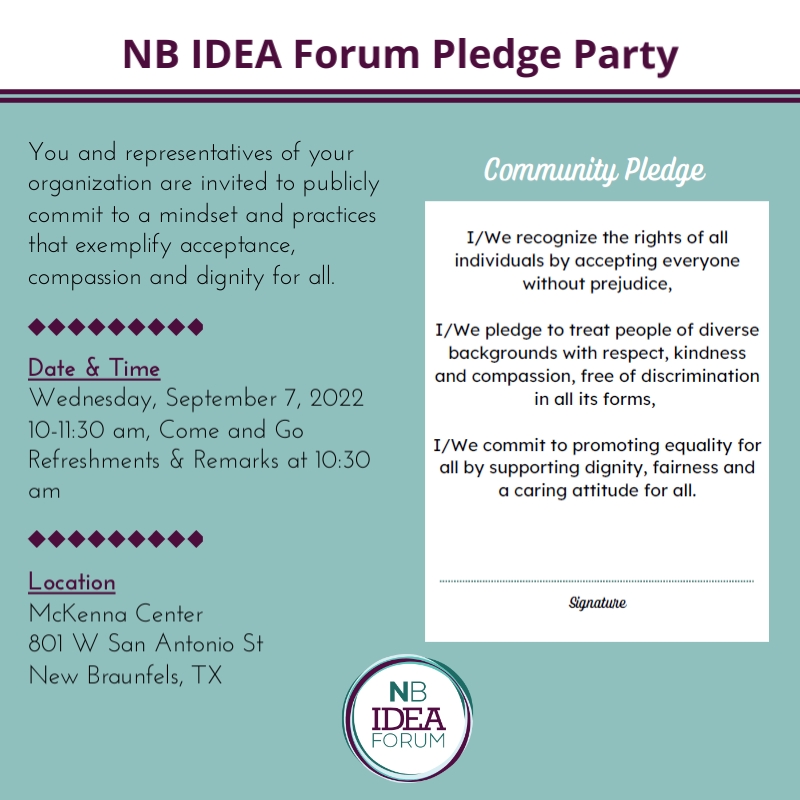 Join us at out next General Meeting- Wednesday, September 28 at 6:30 pm
This meeting will be held at the new NBPD Headquarters (3030 West San Antonio St.) and will include a report on the Chief's Advisory Board from Chief Keith Lane and Bishop Franklin.
Committee Meetings
There are no subcommittee meetings scheduled at this time. Subcommittee meetings will resume in the fall.
Community Events
Apply for a City Board or Commission
The City of New Braunfels is now accepting applications for several boards and commissions. Applications will be accepted until September 30, 2022. If you are interested in representing the community in this way, please visit the City's Boards and Commissions website.
New Braunfels MLK Association, Inc. Annual Kick-Off Meeting
Thursday, September 29, 6:30 pm
The community is invited to learn more about the MLK Association at their Annual Kick-Off Meeting on September 29th at 6:30 pm. The meeting will be held at Live Oak Baptist Church (355 N. Washington). For more information, please visit www.nbmlk.com.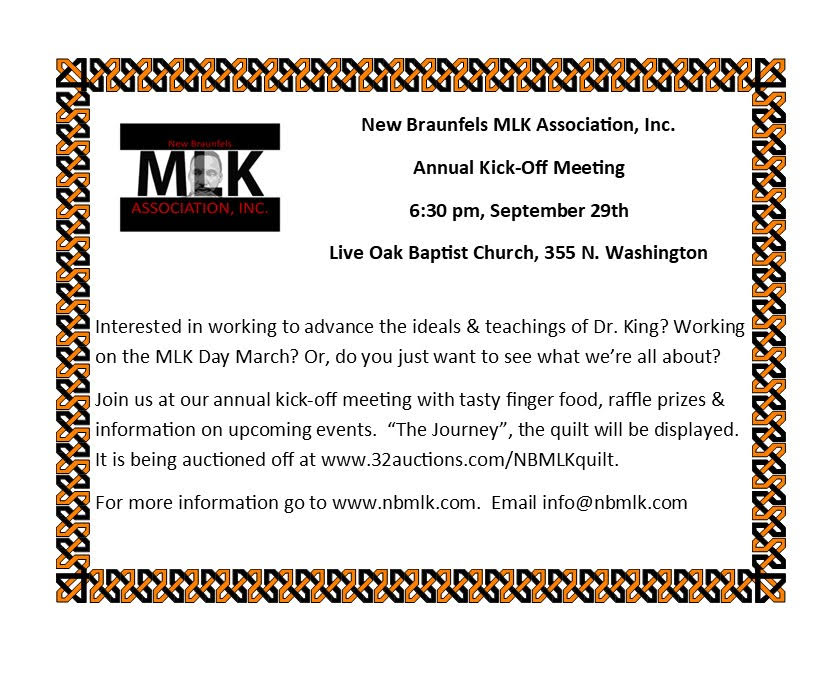 Big Serve 2022
October 8-9, 2022
Looking for a way to give back? The Big Serve is a community-wide volunteer weekend. Sign up for a service project at www.bigservenb.org.